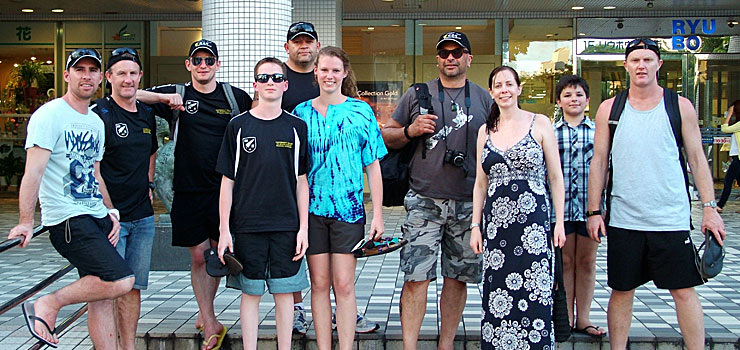 Okinawa 2013
In December 2011 I put to all of our senior students that I was looking at organising a trip to Okinawa to train in the Jun Do Kan in July 2013 and would organise fundraising to try and get everyone there who was keen to go. Expecting around 10-15 people to be keen for this trip I thought it would be an easy exercise but when I had 61 people put their hand up it was going to be a grand undertaking.
After over a year of hard work fundraising in many different ways from selling chocolate and raffle tickets to picking pumpkins and planting trees we raised $50,000 which was an amazing achievement. Over that year and half sadly a few people had to pull out of the trip for personal reasons but in the end we had 46 excited people ready to embark on this amazing karate experience.
At 5am on the 13th July 2013 we all met at Christchurch airport all excited but a little nervous about what was in front of us.
On arriving Naha airport Okinawa late Saturday night the heat hit us immediately and we knew sweat was gonna be a big part of this trip. We got settled in our hotel and a few of us decided to head out to have a look around our neighbourhood and get some food. We found a tiny wee okinawan style restaurant just round the corner which was exactly what we were after. The food was very cheap and amazingly tasty and the beer was reasonably priced, ice cold, and in big glasses so straight away this was going to be a trip to remember.
Since the Jun Do Kan is not open Sunday we used this day to find our bearings and check out our new surroundings. We found our local beach where we would meet every morning. We were there for some light training, cooling swims and even a bit of touch rugby with the locals.
The first day heading to the Jun Do Kan you could feel the nervousness and feeling of unknown from everyone. On arriving everyone was so welcoming and the masters were very friendly and inviting.
They were very impressed with how many of us had made the journey and were keen to put us through our paces. Immediately the sweat was flowing profusely from everyone of us and its the most I've seen everyone concentrate before as we tried to soak up as much knowledge as we could as well as try and impress them as much as possible with our skills and how hard we train.
After the first session there was a lot of release of nervous tension and from then on we could just relax a bit more and enjoy the experience.
Every day the training was fantastic, getting such close up instruction from masters of this caliber was an experience that will be remembered by everyone forever.
During the day we explored Okinawa, taking in the sights and sounds. The main street of Naha is full of energy with friendly faces in every store and restaurant. Nothing is ever a problem. Great markets for shopping and a good mix of local and western style places for amazing food and oh yes vending machines; everywhere you look vending machines.
Then every evening from 5-8pm we all eagerly meet at the Jun Do Kan ready for more great instruction from the worlds best. Each day everyone seemed more relaxed and the masters seemed more relaxed with us which was a great. Feeling like we were building a relationship with these great masters and becoming friends.
For me one of the highlights of the trip was being asked out for lunch from 10th Dan Sensei Yasuda. It was amazing for some of us to interact with him outside the dojo in a less formal atmosphere. Getting to know him and letting him get to know us on a more personnel level without our Gi's on.
The Majority of the group was in Okinawa for 9 days which just way to short but at some stage you have to come back to normal life. I know it was a phenomenal experience for all of us and everyone is so keen to go back. The training, the food, the people, the city, couldn't fault any of it! So roll around 2016 lets do it again!!!!