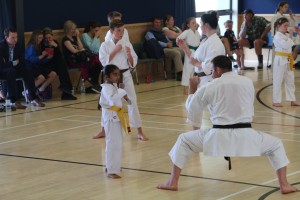 Russley
Russley Primary School Hall
75 Cutts Road, Avonhead
Thursdays
Kids Class 5pm-6pm
Adults Class 6pm-7.30pm
Originally located at Harewood Kindergarton Hall this is the oldest club in the Canterbury-Buller Go Ju Ryu Karate Family. I took over this club in 2000 building up the membership base from its struggling times it was in. In 2012 it had out grown the small Harewood Kindergarton hall and in a big move the club changed premises to Kendal school which was an emotional step after more then 20 years at the Harewood base.
Shortly after this at the start or 2013 another Go Ju Ryu club at Russley school lost their instructor so i merged the two clubs together and took over the brand new Russley school hall in the process.
With the new facilities and the help of Russley school its seen the club grow even more with plenty of space for the classes to focus on lots of fitness and perfecting their karate technique. This is the home club for the Canterbury-Buller Go Ju Ryu karate club and a great base for all the students and meet and train hard.